Review by James McCleary
The past three years have been an exceptional feat for DC Films in terms of successfully recovering from their disastrous attempts to imitate the Marvel formula, the culmination of which took the form of the critical and commercial monstrosity formerly known as Justice League. More than anything else, this quality uptick is indebted to the decision to change tracks and organize each of their films as a unique perspective on the superhero genre under the careful watch of a visionary director. Harley Quinn: Birds of Prey is the latest of these oddball roller coasters, taking the meta comedy shape of Deadpool, and turning it into a group hang break-up movie with heart and wit to spare. The film is an uproarious delight anchored by Margot Robbie's delectable performance as Harley Quinn and director Cathy Yan's refreshingly unfamiliar approach to blockbuster storytelling. All of which results in what is easily DC's strongest offering since Christopher Nolan's Batman trilogy concluded almost ten years ago.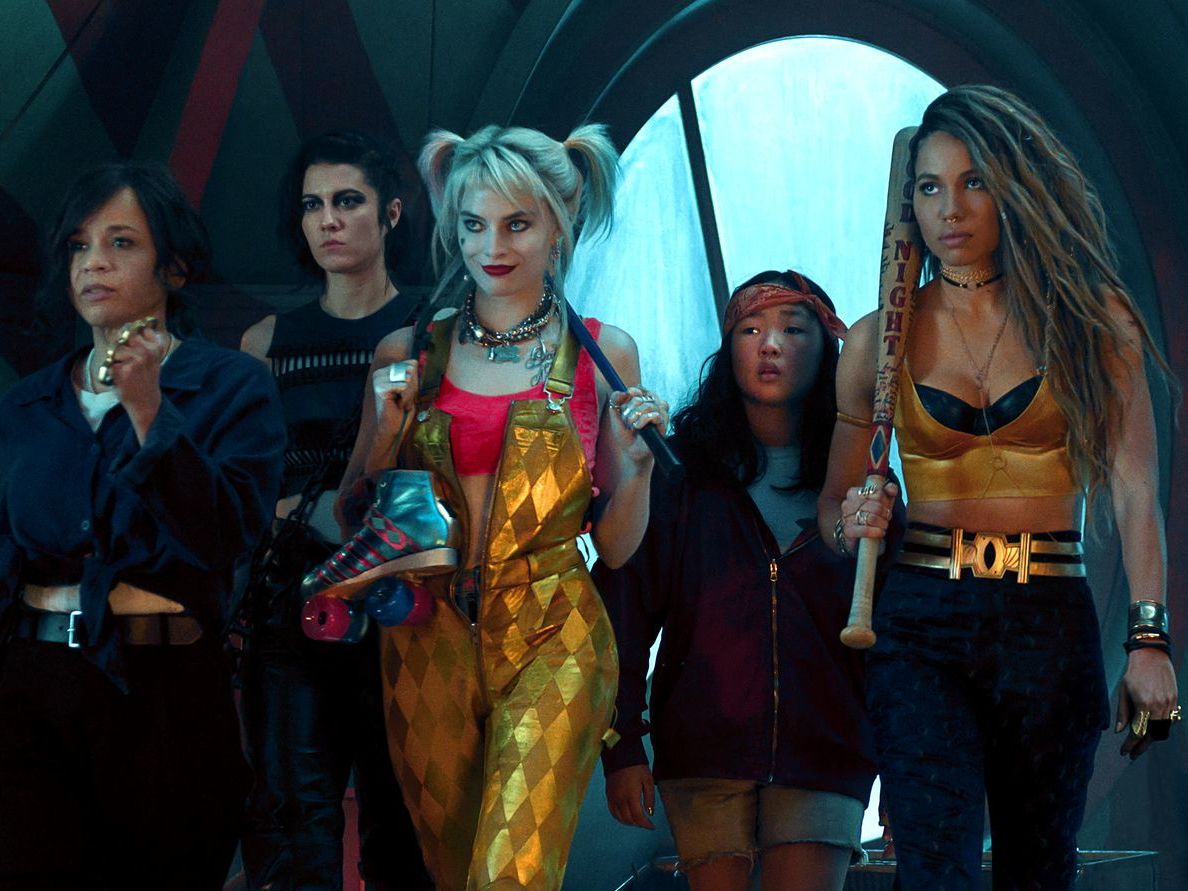 Birds of Prey may have the title of a team-up adventure, but in truth the film belongs entirely to Harley Quinn, who is finally given material more deserving of Margot Robbie's considerable abilities. Her performance, which often concerns a running commentary on her co-stars and a series of fourth wall breaks, might be dismissed by some as a Ryan Reynolds Deadpool impression, but where Reynolds often struggled to balance the comedy and drama in each line delivery and would instead compartmentalize his emotional range, Robbie delivers each line with a cheeky and heartfelt sincerity reminiscent of her work in I, Tonya, but taken to cartoonish new heights. From unscheduled roller blade brawls to cheese whiz onesie parties, there isn't a frame in the film where Robbie isn't pouring all of her energy into bringing this character to life. 
The film's narrative is fairly simple, focusing on Quinn in the immediate aftermath of her world-shattering break up with the Joker, as she crosses paths with four other women plucked from the deepest depths of comic book mythology: The Black Canary (Jurnee Smollett-Bell), The Huntress (Mary Elizabeth Winstead), Renee Montoya (Rosie Perez) and Cassandra Cain (Ella Jay Brasco), all of whom have fallen into the crosshairs of eccentric rich boy Roman Sionis (Ewan McGregor) and his loving partner Mr Zsasz (Chris Messina), inevitably leading to the five joining forces to gorily massacre his army of goons. The narrative plays out pretty much how you would expect, but is given an ingenious new coat of paint by Yan, who cleverly structures the film around Harley's manic rhythm, shifting the tone, location and even point in time on occasion in order to truly put us inside the head of someone whose view of the world is forever transforming by events outside of her control. 
Birds of Prey may have the title of a team-up adventure, but in truth the film belongs entirely to Harley Quinn, who is finally given material more deserving of Margot Robbie's considerable abilities.
This is not to say that the film is entirely successful at characterising all five of its leads, rather it is the balance of personalities which proves the film's one significant weakness. After Harley, Black Canary and Cassandra Cain are the best served, while Renee Montoya is a disappointing one-note cop archetype and Huntress is relegated to one prolonged (though admittedly hilarious) psychopath joke. Each of the five leads gives a strong performance, with Smollett-Bell's in particular making the most of her limited screen-time, but Harley is unquestionably the focus here. She overshadows each of the other heroes' smaller arcs in her quest to stitch her heart back together in a post-Joker world. 
Birds of Prey is a charming, touching and shockingly violent experiment in superhero filmmaking which appears to function both as an apology to Robbie for her wasted performance in Suicide Squad, and as a joyous mission statement for the bold and bizarre new path DC has forged for itself. For the first time in a decade, I am genuinely excited to see what they come up with next. 
Birds of Prey is now screening in cinemas across Ireland.