Article by Mia Sherry
Mandatory mask wearing. Temperature checks. Enforced social distancing. No, this wasn't a hospital wing, this was the 77th Venice Film Festival, the first of its kind since the COVID-19 pandemic swept through Europe and effectively ended not just film festivals but the cinema-going experience et al.
I was in a unique position, as I'd been fortunate to attend film festivals in the past. When I applied for Venice in April, September seemed so far away I couldn't envisage a world where COVID was still as benevolent a force it was then. But low and behold my optimism was poorly as, by the time the end of August rolled around, not only was COVID still with us, but it was getting worse. As I went to Venice, I was unsure as to what to expect– my past festival experience would be of little help to me now. I was worried; was I putting my family and others in potential danger? Was I putting myself at risk? How could I be sure that I would be protected against such a malevolent force?
Well, dear reader, what quickly became apparent to me was if there were any festival to take place in person, it would be Venice. It's practically a film haven at the best of times, but during the pandemic, it became a near sanctuary. A small island, Venice Lido is about 30 minutes from Venice mainland (the tourist trap). With the year that's in it, tourist numbers were slashed– which meant that the only people on the island were locals and festival attendees.
It's odd to say that I felt safer in a foreign country, arguably more affected by the pandemic than Ireland, but it really is true; everybody wore masks (properly and with no exceptions), every entrance to the festival was armed with temperature checks and hand sanitizer (and then again at the entrance to individual cinemas), seating in theatres was strictly socially distant and no way could you try switch seats at last minute. There were increased outdoor screening areas, and every theatre was aired out and ventilated after use. All this meant not only did I feel safe, but, after a day or two, it genuinely became easy to forget that COVID existed and that this was out of the ordinary– it became, in the best way possible, the new normal.
Here are few things to look out for from Venice 2020, straight off the rushes:
NOMADLAND (Chloé Zhao)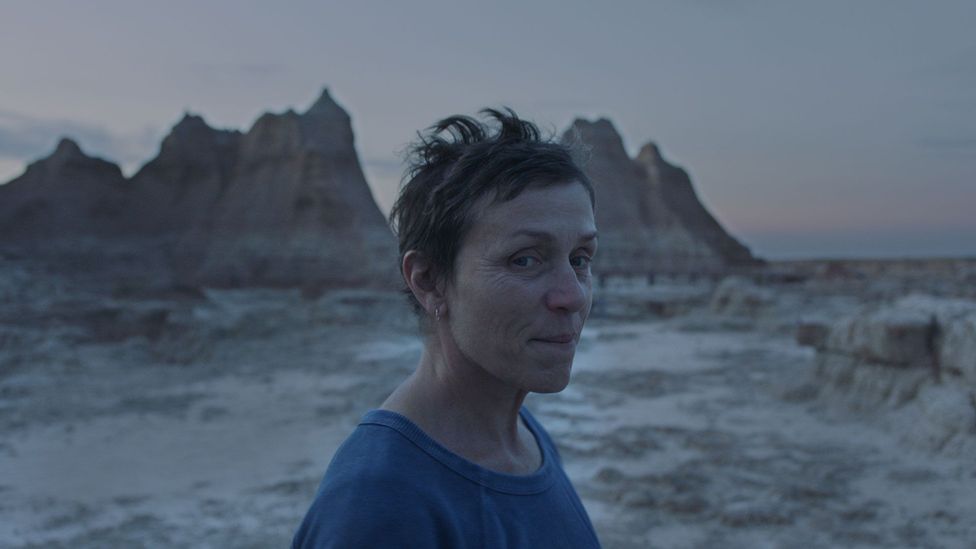 The shining gem of the festival, and the winner of the Golden Lion, Chloé Zhao's Nomadland is one of the finest examples of contemporary independent American cinema from the 21st century. Zhao's subtle camera work, coupled with Ludvico Enaudi's captivating musical score and a career-defining performance from Frances McDormand makes for a rapturing look at the underbelly of the American Midwest and the people that have been left behind by rampant capitalism. Touching, eye-opening but above all deeply, deeply human, Nomadland is a testament not only to friendship, but to the art of filmmaking and storytelling and the power they hold to connect us through distance and time. Seeing as how it will likely make its way to the Oscars, it's definitely not one to miss!
The Man Who Sold His Skin (Kaouther Ben Hania)
A Tunisian-French-German-Belgian-Swedish co-production, The Man Who Sold His Skin was one of the most surprising gems to be uncovered at the festival. A darkly comic satire about the artistic world, Ben Hania walks the fine line between satirical and dramatic, ultimately creating a beautifully humane story about the lives that can get lost in the pursuit of art. Sam Ali (Yahya Mahayni), a Syrian refugee, allows a sulfurous artist to tattoo his back in exchange for a visa and freedom, but with Ben Haria's masterful command of pace and tone, Sam's initial exuberance slowly descends into a nightmare as he becomes entrapped within the world that supposedly granted him his freedom. The real star of the show is feature-debut Mahayni, who becomes a fantastical blend of Hamlet, Caliban and Richard III, and took home the Orizzonti prize for best actor for his efforts.
Pieces of a Woman (Kornél Mundruczó)
Kornél Mundruczó's stunning portrait of a couple in crisis (Vanessa Kirby and Shia LaBeouf) was one of Venice's most lauded premiers, and landed Kirby the Volpi cup for Best Actress. Opening with a thirty minute one shot that could rival the entirety of 1917 for sheer tension, what follows is a stunning mediation on grief and love– romantic love, maternal love and all the complications that come in between. It's packed to the gills with a star studded supporting cast to boot– Sarah Snook, Benny Safdie and Jimmy Fails to name but a few. It just got picked up by Netflix, and seeing how it will likely make its way to this years award season, you can be sure to catch it on streaming services soon.
One Night in Miami (Regina King)
Arguably one of the most hotly-anticipated feature-film directorial debuts of the festival, Regina King does not disappoint with One Night in Miami, a pressing and timely drama focusing, as you might guess, on one night in Miami. Except the night in question is the night in which Cassius Clay (Eli Goree) has won a title fight– the night before he will officially convert to Islam and change his name to Muhammad Ali. With his mentor, Malcom X (Kingsley Ben-Adir), and friends Jim Brown (Aldis Hodge) and Sam Cooke (Leslie Odom Jr.), King utilizes Kemp Power's play on which the film is based and the expert talents of her cast to dig up age-old issues that occur for Black people in America. Beautifully stylized and shot, King is not afraid to put her spin on the big screen, and is undoubtedly on her way to taking over the directorial world. As we deal with the continuing effects of the ever-mounting BLM movement spreading throughout the world, King crafts an up to the minute commentary on the Black experience, and a memorable reflection on giants of the Civil rights movement.